Last Wednesday We Shape Tech hosted a work-shop style event aimed at cracking the Confidence Gap. Over 79 participants joined together to tackle the challenging topic, exchange life hacks and learn new strategies to boost their self-confidence.
The event kicked off with a delicious welcome apéro hosted by Ginetta and a brief introduction of what the Confidence Gap is by Janine Fuchs and Marike Carstens of the WST team. Ginetta researcher, Simone Reichlin, dug deeper into the topic by explaining attachment theory – how self-confidence develops in childhood. As children mature, data reveals that a gap in confidence between boys and girls becomes evident, one that often carries on into adulthood.
According to research presented in The Confidence Code, "men overestimate their abilities and performance, and women underestimate both, [but] their performances do not differ in quality." A lack of self-confidence is often why women do not speak up in meetings, feel unworthy of positions they are qualified for and overestimate risks while underestimating rewards.
Read more about the Confidence Gap between men and women here.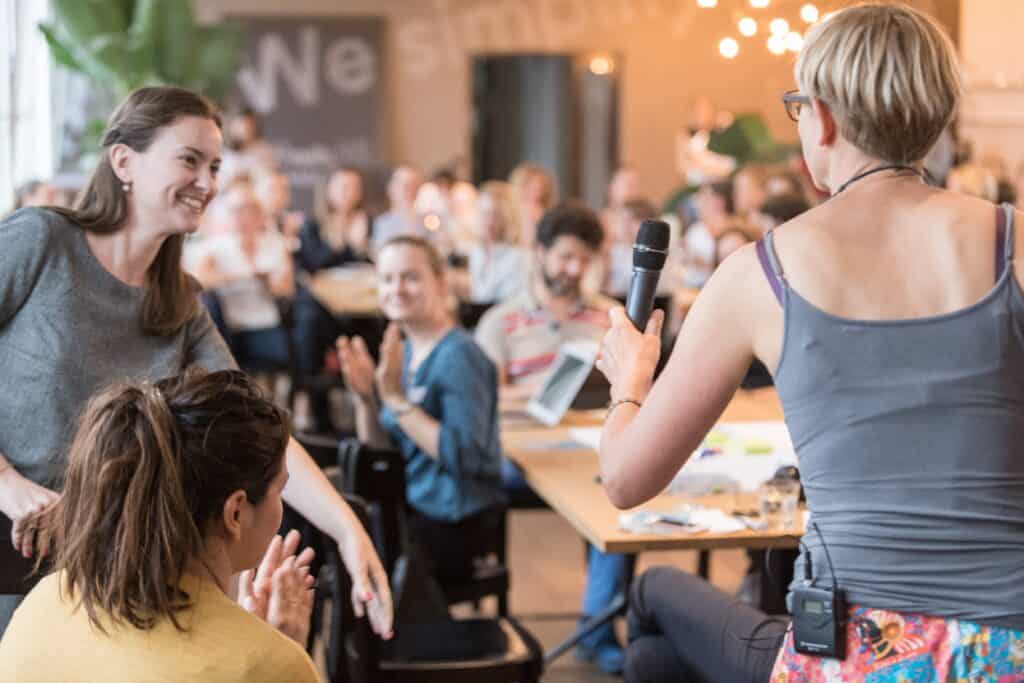 In preparation for the work-shop part of the event, participants were asked to complete the Nice Girls Self-Assessment found in the best-selling book Nice Girls Don't Get the Corner Office, by executive coach, Lois P. Frankel. The assessment identifies seven areas where low self-confidence can affect how we behave in our professional lives, for example, how we play the game, how we act and how we think. Participants joined one of the discussion groups based on their self-assessment.
Each group was given the task of identifying how low-self esteem can shape one's behavior at work – how does low-self esteem affect the way we think? Conversations were buzzing with personal examples of dilemmas group members had faced. One participant, for instance, shared that customers often challenge her expertise, and she fears that when she responds assertively she appears rude.
Groups were then asked to brainstorm life hacks to help overcome these types of obstacles. As the workshop ended, a spokesperson from each group took the floor to share their group's findings and the life hacks they had assembled.
If you are looking for a job make a video of yourself as it will distinguish you from other candidates
Be proud of who you are and do not be afraid to take credit for your work
Discover the unwritten rules of the company by talking to as many co-workers as possible
Remember you are not a victim of the game, you are an equal player
Do not be afraid to communicate your misgivings about a project or a deadline to your boss
Trust your gut and expertise
Place yourself purposely in situations that stretch your boundaries to practice meaningful responses
If you think of something you should have communicated, follow-up with an email
Take pauses while speaking to allow others time to reflect
Think of conversations as mini-speeches to help structure your communication
Practice Power Posing
Block the perception that people are rating you
WST was also fortunate to receive personal life hacks via skype from role models who have strived to overcome the Confidence Gap! Please take a moment to appreciate their messages.
Undoubtedly, the battle of boosting self-confidence is shared by many, but possible to overcome especially when we join together. Stay posted for our next activities and Save the Date on October 18 for our Master21 & WST Codeweek Event at EWZ Selnau. Looking forward to seeing you there!