Photos by Daisy Scott Moncrieff
What is We Shape Tech and Why Basel?
It's a good question… Basel might not be your first thought when thinking about the most digitally forward cities of the world, Europe, or even Switzerland! However, you might be surprised. Basel has many forward thinking companies such as Adobe, our great host for the evening, and many exciting MedTech, FinTech, BioTech, Life Sciences start ups, in addition to social organizations such as Impact Hub. Times are changing, and thanks to WE SHAPE TECH, we're determined to make it happen even faster.
WE SHAPE TECH is for people who are fascinated about tech and innovation, who want to be part of a community in this field, broaden their knowledge and skills, and exchange with people sharing the same passion and interests.
In addition, we aim to support women in gaining various skills in networking, communications, leadership and more.
Your WST Basel Team – Who Are We?!
WSTBasel was founded by three women who all have a personal connection to Basel and are related to tech and innovation in different ways.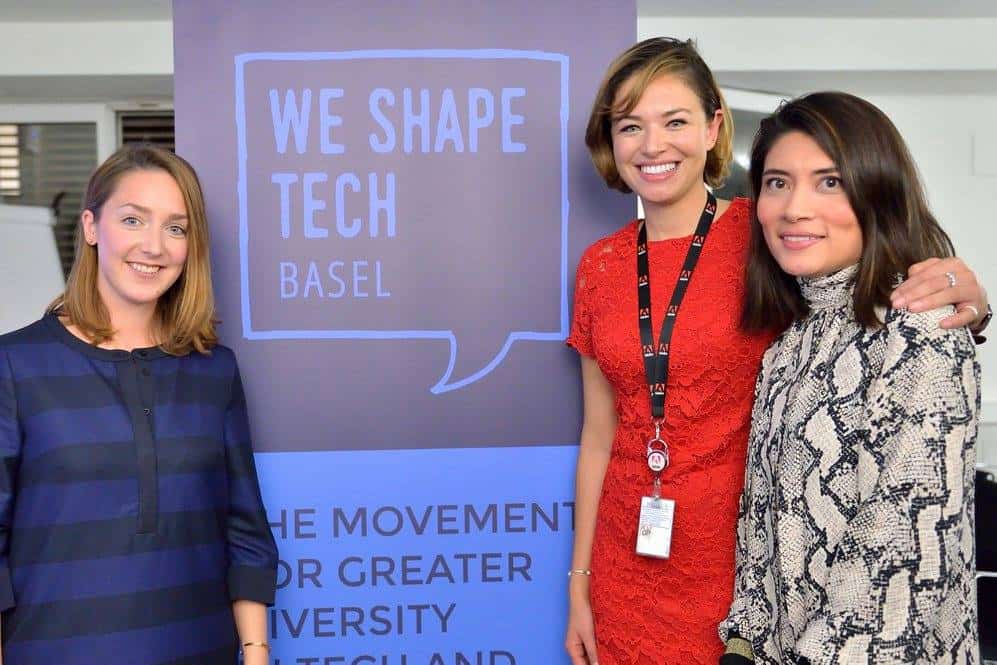 We are able to do and be everything we want, it needs passion and patience.
A warm, super-intelligent Brazilian that speaks an incredible six languages, Elaine has worked and lived in Brazil, Germany, Mexico, Greece – where she has her own Startup, and most recently, Switzerland – where she is now a Front End Developer and Diversity Ambassador for Adobe Basel. Gaining experience in multiple fields before pursuing her programming career, Elaine truly is a role model, motivated by fostering and engagement women in tech and innovation.
Making code literacy the new normal.
For Mel, it's all about the people she meets and the things they create together. Mel co-founded the non-profit Aspire to bring more diversity into tech. Since then, she's facilitated several educational programs (Startup Weekend, Aspire Accelerator & Mentorship Program, TEDxZurich). When starting to learn to code she realized tech education needed to change. Her company, Master21 teaches people to code.
Basel deserves a community in tech and innovation.
Aileen grew up in Basel and founded her communications consulting company, she frequently works with startups and other innovative companies. She portrays entrepreneurs to give them a platform to speak about their vision and passion. She believes that we all need take responsibility to be able to understand the meaning of digital transformation and be able to be part of it. Following code week and co-founding a software company, her focus is connecting people interested in tech and innovation and offering them with WST a community where they can learn, personally grow, exchange and get inspired.
"You cannot be what you cannot see"
In London, Gen is the Director of Women Who Code, and leads organisations such as Google WomenTechMakers, Google Developer Group, Twitter Developer London Community, and NASA Space Apps Challenge. Pretty impressive huh?!
Gen flew all the way from London and discussed the importance of needing more (women) role models in leadership positions. To make this happen, we all need to inspire the young girls of today to pursue a career in STEM.
If you are thinking about a career in the tech industry but worried you don't have the skills or confidence, Gen explained how you don't need a computer science degree to get into tech. Instead, be your authentic self. For example, if you like dresses – go for it! Don't feel that you have to change the way you are just because you're in a techie environment.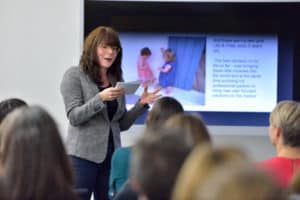 "I want to encourage women who have a conflict between choosing a family or a career, to choose both"
CEO of Creadi AG and co-founder of myCamper. Désirée, also has two very important people in her life – her twin girls. Encouraging women to choose both a family and career, she shared with us some key strategies for managing these two priorities, as well as overcoming challenges as a CEO:
Desiree's departing words of advice:
Stay as you are! – Always follow your way, be authentic, and pursue it persistently.
The show must go on! – Every day it starts again – never give up – carry on.
Surround yourself with the right people! – Network is key. Do not waste your time with the wrong people just to be nice. You do not always have to be nice.
Strong Networks are Fundamental for Success
We all know that having a great network is fundamental for personal success. Therefore, a key part of what we want to support and nurture at WST Basel is providing a space for exactly that to happen.
We put together six 'speed networking' questions for you to get to know your peers just that little bit better.
When was the last time you laughed, and why?
When was the last time you swore, and why?
If you had the chance to change something(s) immediately, what would it be (private life & business/work)?
When you are at networking event, what is the first thing you do?
What is your strategy to get to know someone?
When was the last time you treated yourself? What was it/ what did you do?
If you could define yourself, what would be your personal hashtag, and why?
PS. Although the evening is over, try asking these to colleagues at work, at other events, socials – you might just be surprised what you hear in response and find some new likeminded people.
We finished off the wonderful evening with an apero, networking, and delicious food.
A huge thanks again to all of those who came and joined us for the evening, we hope to see you all again very soon!
Last but not least, thank you again to our fantastic sponsor, Adobe Basel, for making this great event possible.
Coming Up…
28 February 2018
Be sure to keep an eye on your inbox, our website, and social media for news on our next event here in Basel – just a couple of months away on February 28th 2018.
We wish you all a wonderful Christmas and will look forward to seeing you in the New Year!
If February is too far away, if you have ideas you'd like to share with us, or feedback on our first event, we'd love to hear from you. Feel free to contact us on any of our social channels or via email mail@weshape.tech