The board of We Shape Tech is happy to have Petra Ehmann move from Board Member to Member of the Advisory Board at We Shape Tech. Petra has been a valuable member of the board for many years and we look forward to many more great years of collaboration with her in her new capacity! What better time to look back and share some insights about her journey?
Interview with Petra Ehmann
Wow, Petra – you have rocked We Shape Tech for a long time! Tell us how you started your journey with WST.
It is quite funny how it started. I got to know a fellow Google colleague of mine through a pilates class that we both attended. When I learned that she had founded We Shape Tech, I got super excited and asked her whether I may join. A few weeks later I joined the board of We Shape Tech and I am so happy for this opportunity. Doing this pro-bono work feels very satisfactory.
I knew that I contributed towards a more prosperous society by pushing the boundaries of diversity in tech.
What was your personal motivation to join We Shape Tech?
At high school, when I majored in physics and math, we were only a few women. When I studied mechanical engineering at ETH Zurich, I was one of the few women in my class. You could spot us easily in the lecture hall, even though we were about 300 students.
When I walked through the hallways of Google: again, a similar picture. Being able to understand cutting edge technology is crucial in order to shape our society's future. Looking to Eastern Europe, we see that the male-female ratio in tech can be way more balanced.
So, I joined We Shape Tech because I don't want women to be the exceptions in tech. I want them to be the norm.
What was your biggest insight that you gained through We Shape Tech?
I discovered that having a public voice is a door opener, not a door closer. When I was still a student, a friend told me that she would never put a diversity related organization on her resume because she feared that she would be rejected during the hiring process. That shocked me. Back then, I just passed the assessment center of FEMTEC, a stipend for talented female engineers, and I had put it on my resume. Would I now get rejected and have a hard time finding a job? I decided to leave my stipend on my resume. And I found jobs that I wanted.
Recently, I had a similar conversation with another friend. She told me that she would never like diversity-related articles on LinkedIn because she was convinced that nobody would hire her if they'd see this. With We Shape Tech I was quite public about my opinion with regards to diversity and inclusion. Was it harmful to my career or personal life? Nope. To be frank, it was the opposite. Would you love to work for a company that doesn't share your fundamental values?
If you stand up for your values, yes, you will close some doors. But by having a voice, you open those doors that matter to you.
Was there a favorite experience during your time at WST?
I loved my active time at We Shape Tech. There were so many highlights. And I am so amazed by the many great speakers that we could host. My biggest highlight was the event with Harvard professor Iris Bohnet.
Iris Bohnet is such an expert within her field – if you haven't read What Works I'd recommend you to do so – and yet super approachable, sharing personal stories!
An exploration of gender equality as not only a moral but a business imperative, set to benefit the businesses as well as the lives of many if enacted correctly.
Over 400 people attended and the vibe in the venue was totally magical. I still look back and think: wow, what a highlight! But you know what, Angela? It's already five years ago. Time for the next one, no?
Harvard professor Iris Bohnet and We Shape Tech Board Member Petra Ehmann
Indeed. We should have another such event!
Yup. And another such flagship event is in the making. For the curious ones: please reserve 6 October 2022 starting at 6 pm. More to follow. (Petra beams full of joy)
Let's continue where we left off. Next, after sharing your highlight, what do you think is the biggest challenge to speeding up progress of diversity?
One of my Stanford professors spoke about the "Knowing-Doing Gap". It also applies to diversity. I know for instance a few 100% male teams who are pro diversity and who consider themselves championing diversity. When asked why their teams consist only of men, they were surprised by the question because they thought they'd be diverse. So, knowing that diversity is good for your topline is one thing, and implementing it is a totally different league.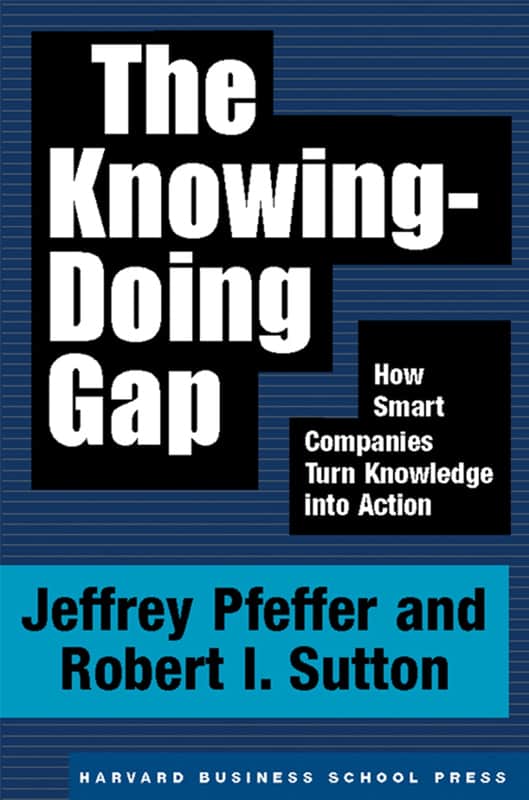 The Knowing-Doing Gap is the first book to confront the challenge of turning knowledge about how to improve performance into actions that produce measurable results.

You have also had quite the journey in your professional life. Are there things that helped you make it to the top or tips you can share with other women just now finding their voice?
In general, I would take career tips with a grain of salt. Some might work for you, others not. And that's OK. Here are a few that I found useful:
Pick the right partner. You might be surprised why I say that. It's because your partner can influence your personal and professional life like no other. You can either receive lots of energy or lose lots of energy depending on whether you're on the same mission. So, be careful who to pick.
"Build your skills, not your resume." Sheryl Sandberg mentioned it in a talk over a decade ago and it influenced me. I moved to Brazil to an unknown, tiny startup and built up exactly those skills that were later on relevant for my first job at Google.
Focus, focus, focus, focus. Time is your most precious good. Spend it wisely. If you can manage to focus 80% of your time on projects of high importance, you are doing very well. But if we don't pay close attention, we can easily spend 80% of our time on the many and small things that just need to be done. Starting your day with emails is such a trap for instance. A paper with my priority projects next to my laptop helped me stay on track. Focus on what matters and do this first.
All of us who had the pleasure working with you are thrilled that you're still staying with us and moving from Board Member to Advisory Board at WST! What was your motivation to keep shaping diversity in the tech and innovation sector, although you have several demanding and exciting roles (Chief Innovation Officer at Ringier; Board Member at Bossard)?
There are so many reasons to remain at We Shape Tech and to move into another capacity. Thank you for letting me move into an advisory role, too!
First, I am still as passionate about diversity in tech as when I started. That is why I still want to contribute towards our greater mission to bring more women into the tech world.
Second, I believe that we can have more impact by staying together and supporting each other instead of opening a competing effort.
Lastly, it is also exciting to make space for our next generation of board members. I can't wait to see what you will all accomplish.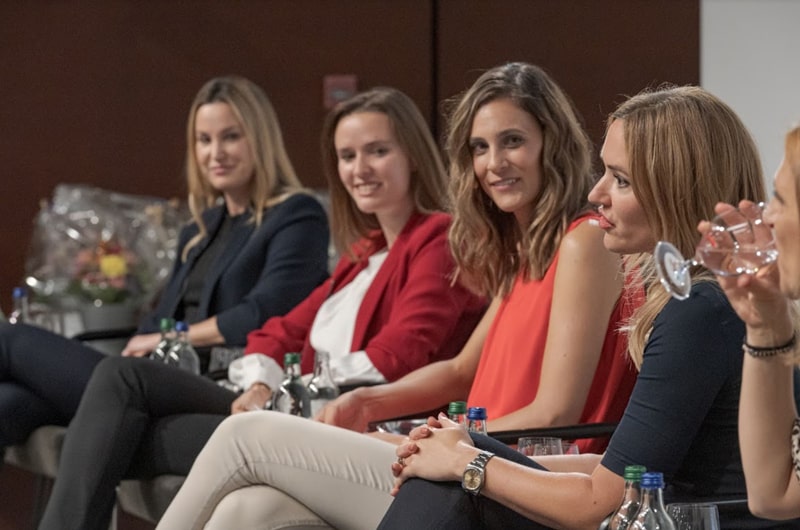 Simone Stebler, Sunny Groeneveld, Petra Ehmann, Patricia Laeri and Claudia Cordioli at a We Shape Tech event at Swiss Re
And of course, we want to hear about your favorite books or podcasts that helped you most along your journey!
My latest discovery is Fast & Curious with Verena Pausder and Lea Sophie Cramer. I find it quite entertaining, insightful and fun. And they are so nice that I wish they were my neighbors!
This podcast is only available in German.
If you're interested in tech, politics and strategy, Pivot with Kara Swisher and Scott Galloway is amazing – I find their honest and direct conversations refreshing.
A book that impressed me and shaped my thinking is "Reinventing Organizations" by Frederic Laloux. If you haven't read it yet, I would like to encourage you to do so. It gives you a glimpse into the next generation of organizations.
This book has helped shift the conversation from what's broken with management today to what's possible, inspiring thousands of corporations to adopt radically more powerful, soulful, and purposeful practices. 

Life is short. Make fun of it 😉
The whole board of We Shape Tech is very happy to have Petra in the advisory board and looks forward to a continued collaboration for more diversity and inclusion in tech and innovation!