Article by Aileen Zumstein
We Shape Tech Basel is proud to announce its one-year anniversary, a moment we celebrated mid-November with Friederike von Waldenfels as our guest. Friederike is the co-founder and CEO of SwissCommerce. She runs multiple successful online shops and platforms including reitsport.ch and fischen.ch. Her guiding principle is: moving from the fear of making mistakes to the fear of missing opportunities. Our jubilee event was a huge success full of inspiration, networking and diversity.
After welcoming our participants, board member Aileen Zumstein led the interview with Friederike. While talking about her education (business informatics) and her professional background (IBM, Goodshine, Porsche), they soon got to programming – a skill that, according to Friederike, should be taught to every child. She says: "It's a language everyone should learn, such as English.". Leaving tech topics, Friederike shared that she decided to become an entrepreneur during an extended stay in the hospital. It was time in her life when she thought about what really drives her. She realized that she wanted to combine her two passions: technology and horseback riding.
Friederike sold her furniture, took her money and founded reitsport.ch. How did she cope with the challenges of having her own business? Friederike answered this question by sharing a piece of advice that she once received by a friend. Being an entrepreneur is like riding a rollercoaster, it's got its ups and downs. The important part is not to live through these moments in an extreme way. Her message of being humble in the good times and not being too hard on yourself during the challenging times was great advice to take home.
What makes Friederike slightly nervous is the weather, it really affects her business. People spend less time on their devices and buy noticeably less when the sun is out. A more complex problem than the weather is web giants like Amazon and Alibaba. They are becoming stronger and stronger, even in the Swiss market. While these huge platforms stand for speed and convenience, SwissCommerce focuses on specialized segments, which is how they differentiate themselves from the big players.
The digital shift is naturally also a huge topic in Friederike's company. To optimize the working process, there is a strict no e-mail policy. All the communication and filing happen through Google and Podio. She has also learned a lot about website maintenance from one or two bad experiences that led to losses in sales. Today, Friederike and her team always have a backup page when they're activating new websites. This allows them to take down the new page and reactivate the old one immediately when they notice any problems.
But technology is not the only innovative part of Friederike's business, her company is including refugees by employing them. This decision shows that as an entrepreneur she is also committed to diversity and social change.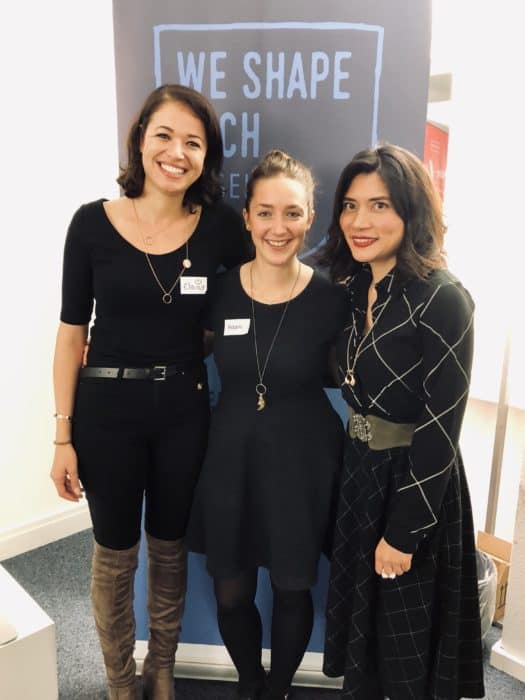 Besides these facts and many others about her life, her job and her background, during her talk we learned about some of her more personal preferences such as dogs over cats, coffee over tea (although she also likes tea), that she has no bucket list and that her mother (who has always treated her the same way as her brothers) inspires her the most.
After the truly inspiring talk with Friederike, participants used the opportunity to exchange their thoughts and network while grabbing some treats from the buffet. In the end, everyone left the event with a lot of ideas, inspiration and memorable advice.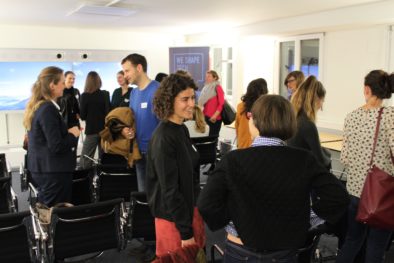 One powerful piece of advice was also the best advice Friederike has ever received, "Stay true to yourself!".