Text by Rolake Rosiji & Timoni Akindolie
So What if You Can't Code?
Our goal is to achieve greater diversity and inclusion in the tech sector in Africa by facilitating targeted discussions between women founders, women working in tech  and non-tech roles, and women investors.
The inaugural brunch event exceeded our expectations with the warmth in the room and the meaningful, organic conversations that emerged.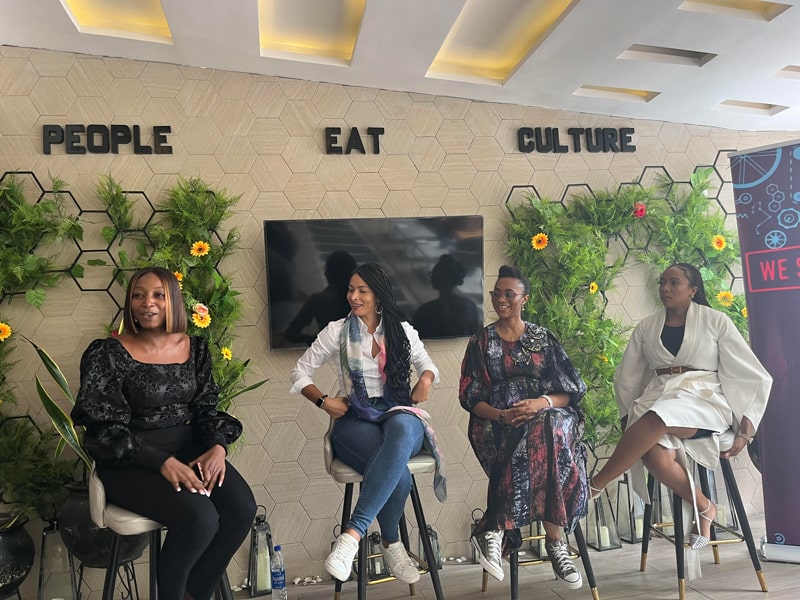 The panel represented the multidimensionality of technology in Nigeria and across the globe really with Fade Ogunro representing the entrepreneurial dimension as founder of Bookings Africa, Ashim Egunjobi providing the investor perspective given her role as an investor in the venture capital space and Oreoluwa Lesi illustrating the social impact angle in technology as a social entrepreneur. We are grateful to our brilliant and engaging speakers Ashim Egunjobi, Fadé Ogunro and Oreoluwa Somolu Lesi !
It was an intimate setting which allowed for conversation to flow quite organically. The topics of discussion ranged from the vibrant African startup scene, the associated digital divide now apparent in many emerging markets as well as the urgency to ensure that women and girls are not "left behind".
We spoke about career goals, our paths thus far and connecting the dots looking backward. Being able to burst some myths and misconceptions about the relevance of non-tech roles or our ability to work in this bustling tech startup landscape, was especially interesting, as the barriers to entry often seem higher than they are.
We also touched on the role each of us as individuals has to play in shaping and supporting the tech and startup ecosystem: as founders, active players, collaborators and hey, also as investors.
We all don't have to be "in tech" but the era of technology ignorance is over, especially on the African continent where venture capital funding for tech and tech-enabled businesses hit a record high of $5.2 billion.
Technology is here to stay and there are multiple avenues to get involved in the space directly, e.g. as an entrepreneur or technical/non-technical professional – or indirectly, e.g. as an investor through the emerging syndicates.
For professionals, the technology space holds career opportunities beyond traditional tech roles such as software development. Just about every skill is relevant in the ever evolving technology landscape.
It's ok if you can't code!
Rolake Rosiji, Zephia Ovia, Jugo Ndukwe and Timoni Akindolie are our newest Active Supporter.
These wonderful ladies organized our first WST event in Nigeria and they have written an account of what turned out to be an inspiring morning – and they highlighted the valuable take aways for you in case you missed the event.