On 1 October 2022, during the #wetechtogether 2022, WST held an interactive session with AWK Group about personal growth and how to gain a clearer understanding of our inner saboteur voices and learn strategies to deal with them.
Have you ever felt that your goals were impossible to reach, while others seem to fly through their lives ticking off items on their bucket list? You want to reach the next step on the career ladder, find more balance between your private and professional life, change career paths, work towards your purpose, cycle all five continents, but at the end of the day these objectives seem too far outside of your comfort zone?
Think back to a situation, where you felt like you were just not good enough, or not smart enough or not tough enough to take the next step – was the problem really the size of your goals or could it have been your mindset?
We tend to sabotage our personal growth with negative thoughts that are often not warranted. The aim of this workshop was to raise awareness of our "saboteurs" – our inner voices telling us that we are less than we really are. 
Saboteurs hold our self-development back!
The workshop helped participants to gain a clearer understanding of their personal saboteurs and learn strategies how to deal with them when thoughts are spinning out of control. We all learned a lot from each other's experiences – because everybody has saboteurs, even the most successful ones.
Hacks How to Stop Sabotaging Your Personal Growth
Around 30 participants committed to the workshop "Hacks how to stop sabotaging your personal growth" and we look back on very open and empathetic discussions with the group.
When we face an opportunity or a challenge, sometimes our personal mental state plays tricks on us and sabotages our personal growth. Through our own "saboteurs", we move from the comfort zone to the panic zone.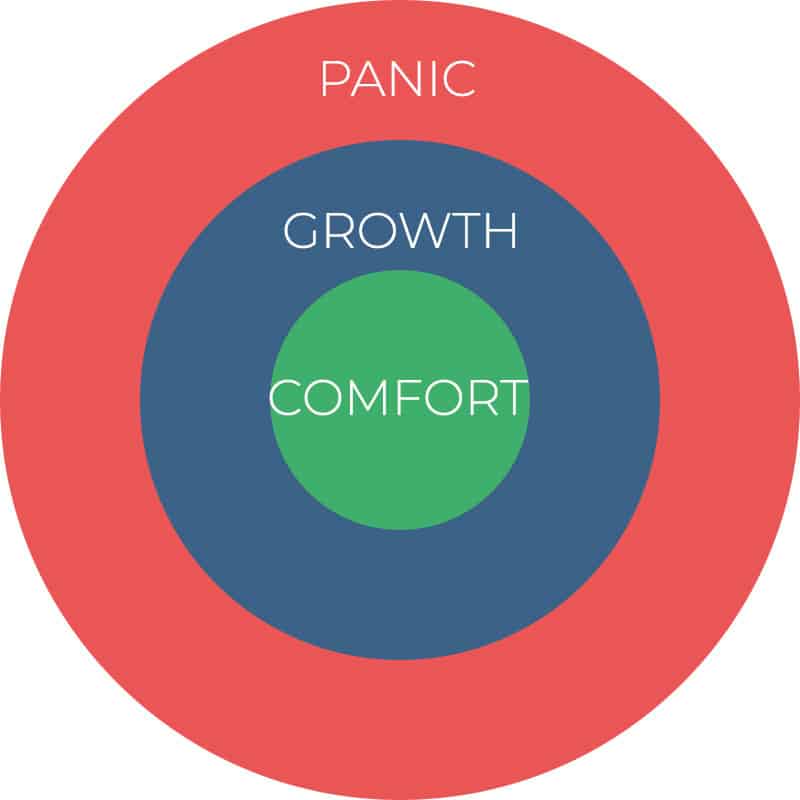 The Learning Zone Model was originally developed by psychologist Lev Vygotsky.
Comfort Zone: safe, comfortable place
Growth Zone: where you learn & grow
Panic Zone: too far from comfort, fearful & overwhelming place
If we understand our saboteurs, we can consequently change our evaluation with measures – our learning zone grows and our panic zone shrinks.
In the first exercise, we shared situations in which we hadn't felt or behaved the way we would have liked to. We described what could have triggered such thinking, feelings and physical behavior. We continued to describe the consequences of this and our (physical) reactions.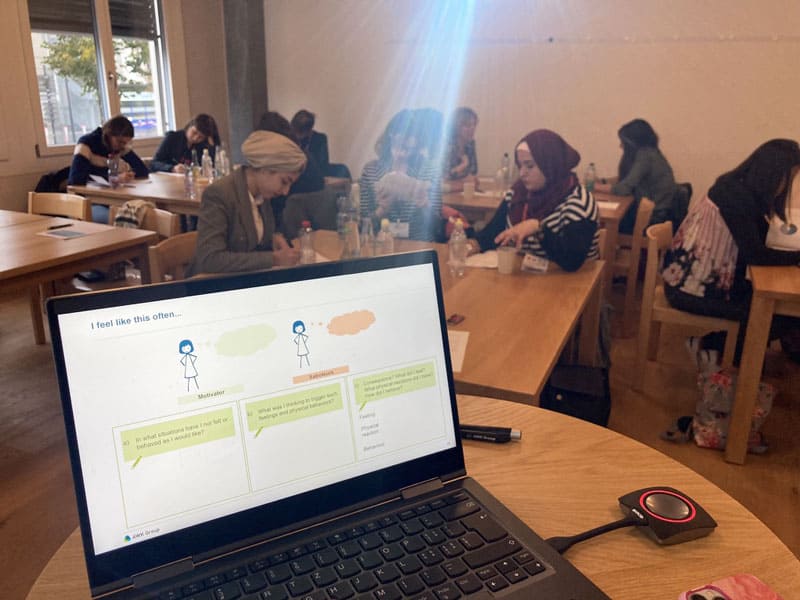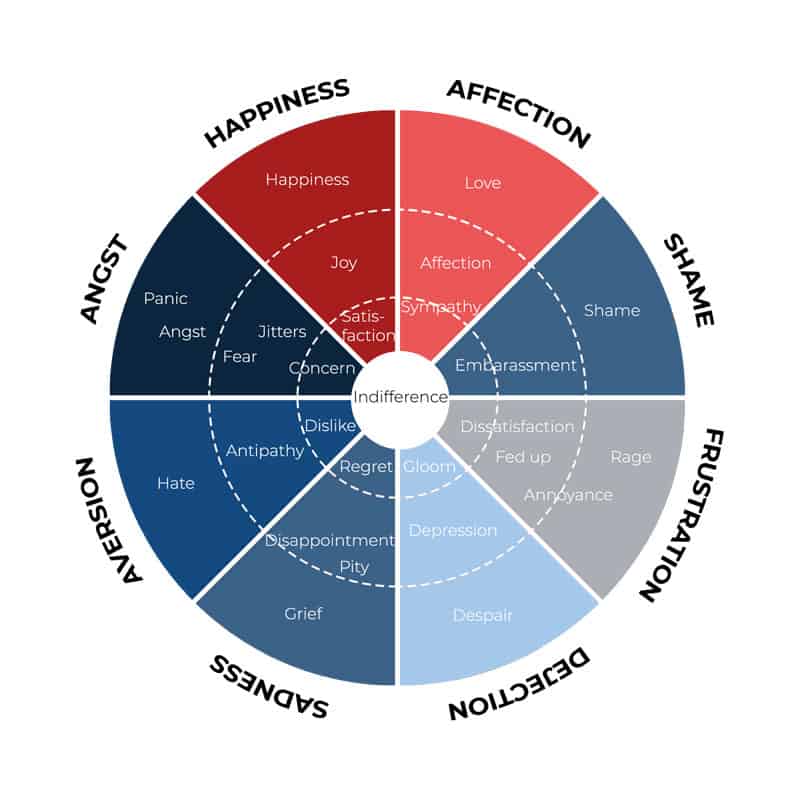 In exercise 2 we discussed how we would feel in similar situations in the future and how we want to evaluate the situation differently to achieve our desired feelings. For this we received some valuable input strategies:
Watch yourself with curiosity and recognize your own drivers
Ignore the driver and just keep going
Interrupt the throught carousel
Adopt a "no fear" attitude
Talk about it with trusted people and put exaggerations into perspective
After discussions and sharing in small groups we gathered hacks and ideas for future strategies.
It's a matter of story telling: learn from failure
Cultivate mental journalling
Practice yoga & meditation
Achieve a clear head through long distance running
Practice positive affirmation
Be kind to yourself: what would you tell your 6-year-old self
Have a discussion with "future-you"
Imagine something that has already been experienced
Create an email folder with compliments (also good for future use)
Practice mindfulness breathing excercises
Give yourself permission to stumble
Ask yourself: what's the worst that can happen?
Look at yourself with an outside perspective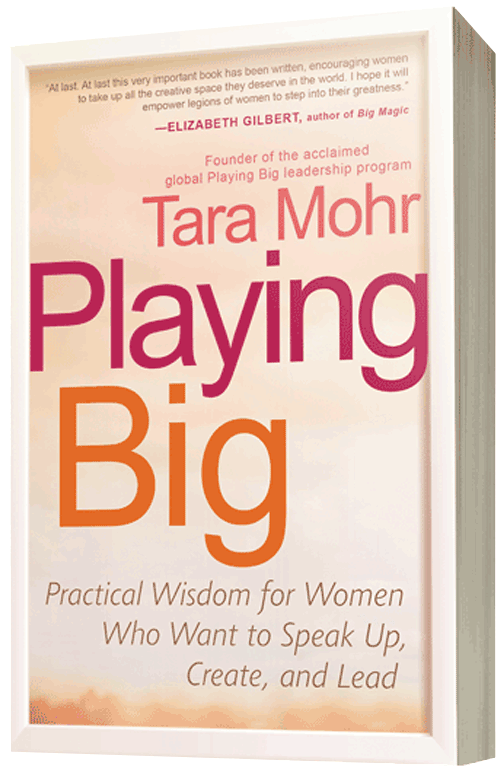 Groundbreaking women's leadership expert and popular conference speaker Tara Mohr gives women practical skills to voice and implement the changes they want to see in themselves and in the world.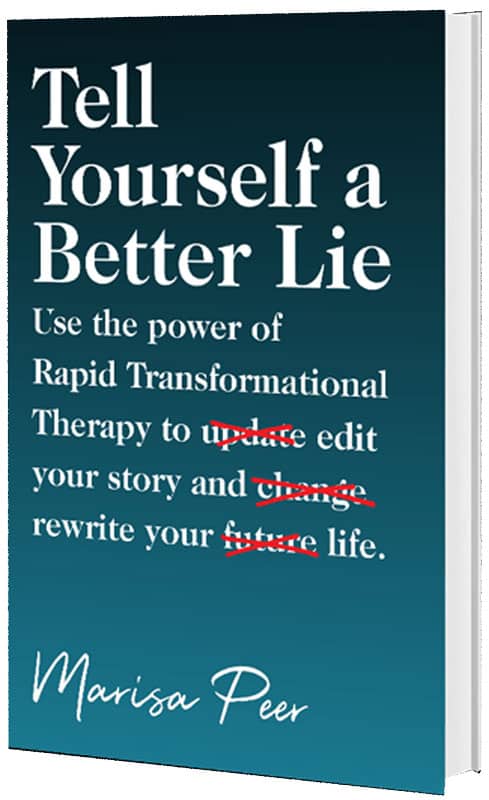 Through ten diverse case studies, Marisa Peer explains how our unmet needs as children can morph into fixed stories we tell ourselves in adulthood – and, more importantly, how we all have the power to change them.