How do you recognize warning signals that your project won't fly? On 27 May, Søren Nielsen talked about what can or in his case did go wrong and what signs to look for. He shared his learnings on how to survive what he calls the innovation theater described in his new book "Death by Innovation Theater – 10 Corporate Lessons Learned by a Startup".
How to Avoid Innovation Theater
Doing endless pilots, measuring vanity metrics, or falling in love with technology are just some of the signs that you might be falling victim to innovation theater. Innovation theater is the phenomenon of entertaining with new ideas instead of actually making new products – this phenomenon is becoming a bigger and bigger problem especially when corporates and startups work together.
This has been the experience from the former founder of ERNIT, Søren Nielsen. A startup that raised millions of Euros, won numerous awards, and was a part of some of the biggest accelerators in the World. The company closed down in 2020, and Søren Nielsen has just released a book with his insights called "Death by Innovation Theater – 10 Corporate Innovation Lessons Learned by a Startup". Some of the lessons are:
Avoid pitch competitions where there is no one present with a budget. Just pitching at events in front of innovation departments and other startups more interested in eating snacks and getting free drinks will not give you any deals.
Stay Away from
Innovation Islands
The corporate innovation lab has become more and more popular. Many of them have no decision power and no mandate to move forward. So don't get caught in the beanbags and whiteboards of the innovation departments.
Stop Measuring
Vanity Metrics
Downloads, media mentions, and website visits seldomly show if you've built a successful product. They are all vanity metrics part of innovation theater. Instead, you should be more focused on measuring the adoption rate and active users.
Always Make a
Business Case.
Always!
A business case forces everybody around the table to think about the financial impact that a product will have. In the collaboration between startups and corporates, this is where the two different languages should meet to align on what the purpose of the collaboration is.
Be Aware of
Endless Pilots
A pilot can be beneficial if you want to test a new product. But if the product is already validated by users then there is no need to do the pilot. Avoid such pilots. A pilot should always have clear ways of measuring a result, and before beginning, you should always discuss the price once you eventually launch the product into the market.
Recording of Lunch & Learn
Death by Innovation Theater
10 Corporate Innovation Lessons Learned by a Startup
This book tells the story about how innovation theater in the end killed a young startup. It is an eyewitness story told by one of the founders, who points to 10 different lessons learned and how other startups (and corporates) can avoid the death by innovation theater.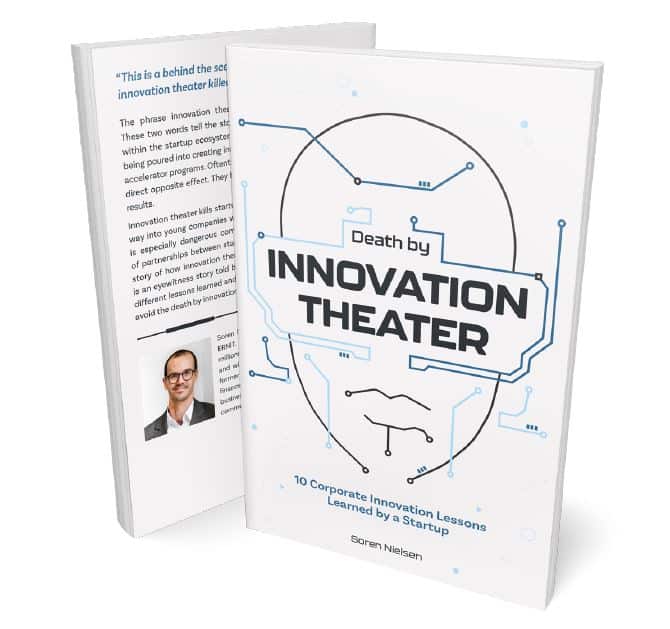 Søren Nielsen is the Chief Commercial Officer at Subaio. He's a purpose-driven fintech entrepreneur that has led several different companies within the financial sector and is frequently participating in panels and presentations about partnerships, digitizing customer journeys and open banking. Søren Nielsen is also the former editor in chief at Denmark's biggest financial media.
As the former CEO and co-founder of ERNIT, Søren built a team of likeminded souls raising a double digit figure on their growth path. They ran a successful Kickstarter campaign, were a part of the prestigious accelerator program Techstars and sold their solution to several banks, besides winning numerous awards like the Visa Everywhere Initiative and breaking new grounds in the financial educational space in combining IoT, a gamified app and a real bank account into one product.